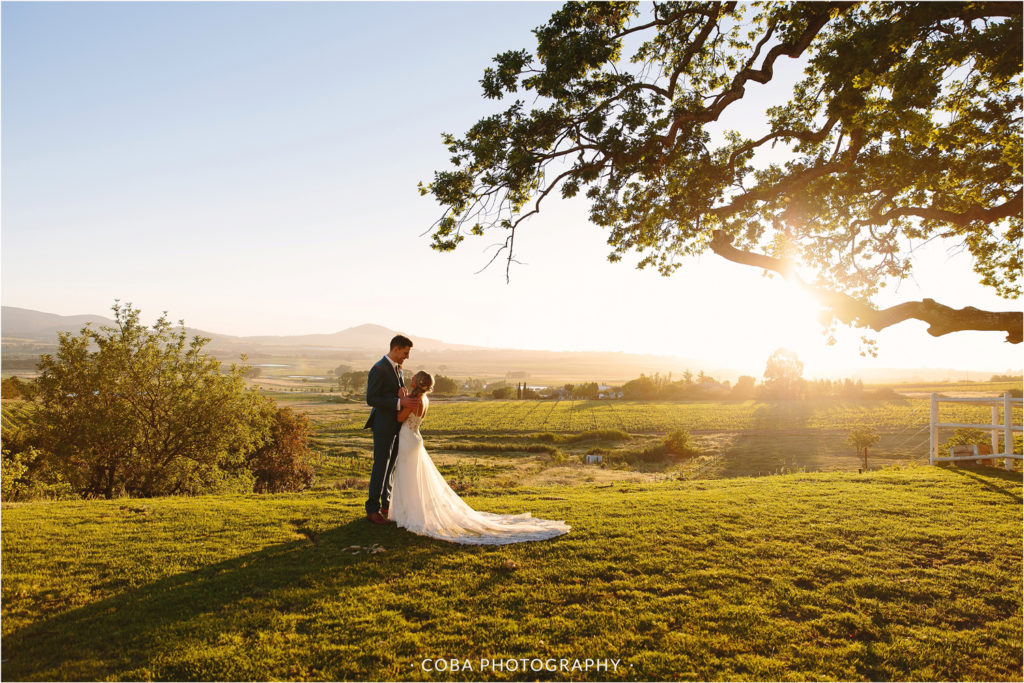 An elegant-bohemian wedding with touches of gold and vintage.
From the first moment I met Marli & Divan, I could see that they love each other with a deep and genuine love. Their love story started in 2008 when they were introduced by Divan's sister (Yvette) and Landi, a childhood friend of Marli.
A little more of how they knew they wanted to get married one day:
"Ons altwee het so `n goeie gevoel gehad dat dit die een is na ons eerste date, maar daar is twee oomblikke wat uitstaan vir ons altwee.
Na ons eerste date het ons mekaar weer `n paar keer gesien en toe saam op `n road trip gegaan. Divan het daardie naweek besef ek is die een toe ons saam oor iets simpel wat ek gedoen het kon lag tot ons trane in ons oë gekry het. Hy het geweet dat daardie net die begin is van nog baie saamlag oomblikke.
Ek het besef Divan is die een twee dae voor hy moes terugvlieg Hong Kong toe en ek dit moeilik gevind het dat hy so ver weg gaan wees en ons oor `n lang afstand aan die verhouding gaan moet werk. Al my vrese en twyfel en trane het weggegaan toe hy my verseker het dat ons mekaar nie gaan verloor agv die afstand tussen ons nie en dat hy enige iets sal doen om dit te maak werk en om seker te maak dat ek eendag in`n trourok voor hom sal staan."
They got engaged while on holiday in France & Italy; Divan proposed on a balcony in Positano, Italy. How romantic? 🙂
Advise from the bride & groom for engaged couples: "As jy nie die tyd het nie, moenie probeer om alles self te doen nie, daar's altyd mense wat sal help. Moenie dat al die beplanning en reelings julle spesiale dag oorheers nie. Moenie vergeet om die proses te geniet en om dit saam met die persoon waarmee jy trou te deel nie. Trou is nie net die een dag nie maar vir ewig daarna."
Second photographer: Kirsten Goslett; Videographer: FJS; DJ: DJ Chopper; Dress: Janita Toerien; Cake: Mrs V; Bridesmaids dresses: Adele Prinsloo; Hair & Make-up: Clarita Smit; Decor & Flowers: Mrs V; Dancefloor & Fairylights: To-Netts; Catering: Red Pepper Catering; Stationery: Bride's sister, Suna; Rings: Edna de Bruyn
Click here to view their gallery for MORE photos.